"Who said burn survivors can't run a marathon? I'll show everyone that I can run as fast as anyone!"
- Hui-Chu, burn survivor
In 2015, Hui-Chu was injured during the Formosa Fun Coast Waterpark Dust Explosion. Back then, doctors said that she had only 20% chance of survival, but almost three years later on March 11, 2018, she completed within 2.5 hours the 21km Taipei Expressway Marathon. Looking back at all that she overcame to be able to achieve this feat, Hui-Chu said: "I'm just so happy!"
After her injury, Hui-Chu began to undergo rehabilitation at Sunshine and as she progressed, she also started to train at the gym to strengthen her muscles and her endurance, and began running to improve her cardiopulmonary functions. Earlier this year, she took part for the first time in a half-marathon and after running 10km, she fell down. Other runners told her to immediately go to the first aid stop but Hui-Chu told herself: "I cannot stop, I must go on!" At first, she wanted to cry but she stood up, calmed herself down and kept on running. She said that running is a metaphor for life: "I was burned when I was 22 years old, this accident was a huge setback, but after struggling to get back up on my feet and readjusting my pace, I was able to return to a normal life, so I don't have any reason to give up."
On March 11, 2018, Hui-Chu represented Sunshine Foundation by running in her second half-marathon, this time to promote the concept of Face Equality. "We don't need pity, we want respect. I will prove that I can be better than anyone else." Hui-Chu wants to encourage people going through a rough time, because the hardest step is the first one, but after that, after you start moving, a completely new horizon filled with possibilities will open up.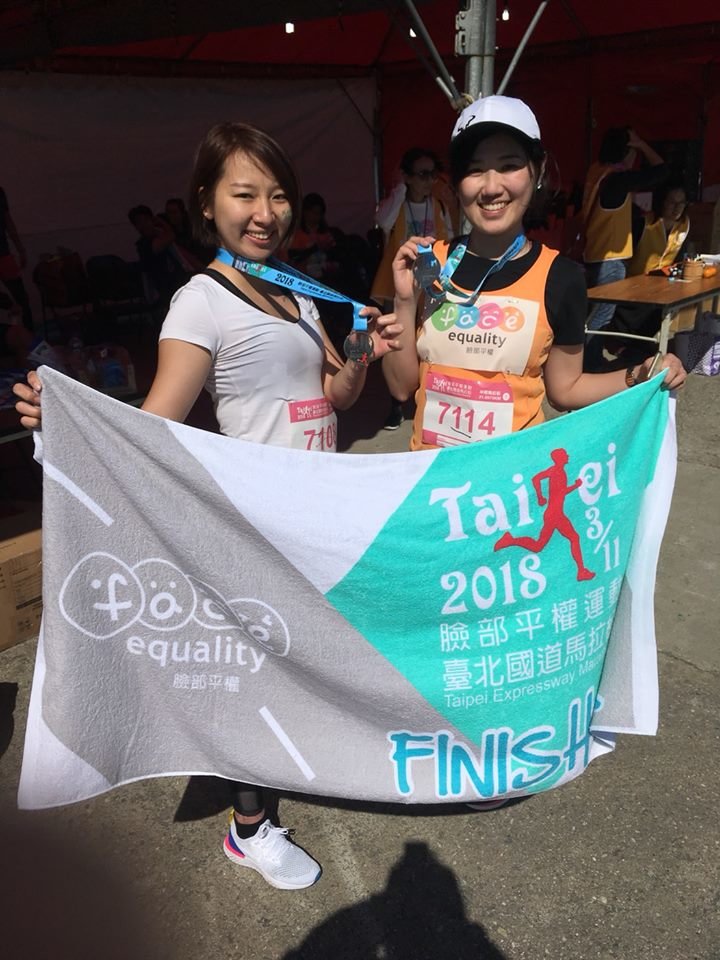 Hui-Chu is now putting all her efforts into passing her certified trainer exam. "I almost lost everything, so I know the value of a healthy self. I've spent so much time and effort to overcome disability, I can do it, and surely you can also do it!"